About Goboman and our Custom Gobo Design Services
Goboman was founded in 2006 but has over thirty years of combined experience in the lighting industry. We offer custom gobo design in the form of steel and glass gobos. We also offer a line of stock gobo designs, wedding gobo designs, gobo projectors, and accessories. Our aim is to provide great quality gobos and lighting equipment to a variety of industries. These industries include architectural, retail, theatrical, church, educational, and special event markets. Our goal and mission is to provide fast and friendly service with a focus on simplicity.
What's a Gobo?
A gobo is a physical stencil or template slotted inside or placed in front of a lighting source.  Lighting sources vary but most common light sources include gobo projectors. Gobos are typically used to control the shape of emitted light as it leaves the projector. They cast a shadow or emit light onto a space such as a wall, ceiling, wedding dance floor, and more. Gobos are used in a variety of industries including architectural, retail, church, entertainment, and more. Gobos are becoming increasingly popular to use in weddings.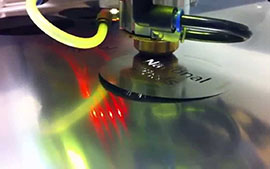 Support
(951) 693-5100
(951) 693-5108
Open Monday through Friday 9am-5pm PST